Obstacle racing has been fantastic.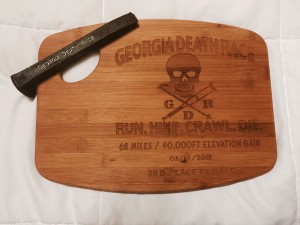 But last fall (fresh off of knee surgery), I was looking for something different. A new challenge, a new venture. Having made a brief foray into competitive CrossFit at Regionals last year, I realized that lifting heavy things for just a few minutes at a time probably wasn't my wheelhouse. So when I sat down to think about what I love the MOST about OCR, I realized it's running up and down mountains (or the Death Race, where all I wanted to do was hike up and down Bloodroot endlessly).
So why not try something where I'm doing just that? Let's write a new chapter, a new book. And call it The Book of Ultra.
Continue reading The Book of Ultra: The Georgia Death Race →